After reading about our various free classes and locations below, please use the Contact Us page to sign up for a particular class.  This will put you in contact with Paul Casper, who will assist you with your choice and provide additional information.
Class Times at the Legacy Dance Center (Updated 18 January)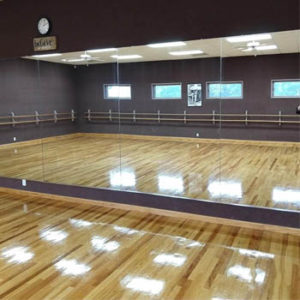 Tuesdays at 11:00 am: Tai Chi For Fall Prevention, Level 1, Instructor Paul Casper
Tuesdays at 12:00 noon:  Qigong Shibashi Set 1, Instructor Paul Casper 
=========================
Thursdays at 11:00 am: Tai Chi for Fall Prevention, Levels 1 & 2, Instructor Anne Plyler
Thursdays at 12:00 pm: Qigong Shibashi, Set 2, Instructor Paul Casper
Thursdays at 1:00 pm: Tai Chi 24 Yang Style, Instructor Anne Plyler
Directions to the Legacy Dance Center (formerly Angie's Dance Academy):
The legacy Dance Center is located at 115 Glance St. in Clyde, NC. Turn off of Main St. at the Haywood Appliance red light, turning towards the railroad track. Go across the tracks, then turn right at the first street. The dance center will be at the end of Glance St, on your left. 
Click the map on the right to get detailed directions.
Class Times at Laurel Ridge Country Club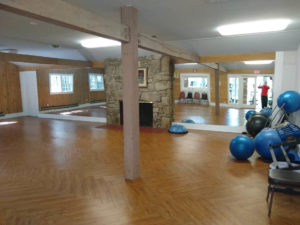 Mondays at 7:00 pm: Tai Chi Qigong Shibashi Set 1, Instructor Paul Casper
Enter via the double doors near the Pro Shop or the combination locked door to the weight room. Both doors should be open.  We usually gather in the lounge area.  Paul typically has a presentation or some administrative stuff to talk about for the first 15 minutes, then we move to the big room to begin exercising at 7:15 pm.
Directions to Laurel Ridge Country Club Fitness Center
The Laurel Ridge Country Club Fitness Center is at 49 Cupp Lane in Waynesville, NC. 
Take exit 100 off the expressway. Turn right on to Eagles Nest, go about 1/2 mile then turn into the LRCC entrance. Turn left at the end of the entrance street. The Fitness Center will be on your left. 
Park under the trees if there is no available parking at the door.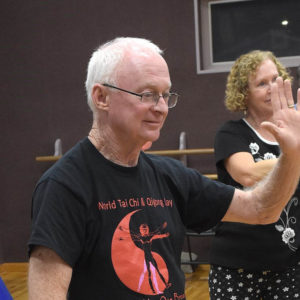 Tai Chi Qigong Shibashi: You can read about this program at taichi18.com. We use the Set 1 and Set 2 programs from this website. Shibashi is just Chinese for 18 movements. Each movement is repeated about 6 times, standing in one place. That is the main difference from Tai Chi…no choreography. Some seniors find Shibashi easier to learn because there is no need to memorize choreography in addition to the movements and the breathing. The movements are slow, smooth, continuous….and easy!
Tai Chi for Fall Prevention: This program is substantially the same as Tai Chi for arthritis. However, you do not need to have arthritis to do this program. It is just designed to be a bit easier for folks that do have arthritis. The benefits are still wide ranging. We use the programs developed by Dr. Paul Lam of the website taichiforhealth.org, also tchi.org. This particular program has been around and has been thoroughly clinically studied by many medical organizations. It has been found to be very effective and consequently is promoted by Arthritis Associations around the world, plus the CDC. It's rock solid…if you do it, you will see results.
Tai Chi 24 Yang Style: (as described by everydaytaichi.org)  The Yang style is the most popular and it consists of slow continuous, soft and circular movements in a flowing form.  To do Tai Chi, you perform a series of postures or movements in a slow, graceful manner.  Each posture flows into the next without pausing.  All forms of Tai Chi include rhythmic patterns of movement that are coordinated with breathing.  In order to perform Tai Chi properly, the body moves as a unit. Timing of movement is very important–all parts of the body start and end at the same time.  During transitions and weight shifts the weight ideally is on one foot, keeping the body upright.  Commonly referred to as "separating the weight",  or substantial and insubstantial.  The slower and lower the movement, the greater the strength and endurance benefit.

In 1956, a group of Taichiquan experts organized by the State Physical Culture and Sport Commission created the simplified 24 set taichiquan based on Yang Style Taichiquan. making a complicated form simple and removing repetitions.
Other Programs in Haywood County:
From time to time there may be other Tai Chi or Qigong programs available in Haywood.  The Hospital Fitness Center often has one or more classes, and occasionally the Waynesville Recreation Center, and the Yoga Center on main street may offer classes.  If our classes do not fit well with your schedule, by all means check these alternatives out.  We are not the only teachers in Haywood.  There are several others with many years experience that for whatever reason may not be currently teaching, but hopefully they will resume and help spread recognition of what Tai Chi and Qigong can do for the human body.
We are not all business...
…we do have fun!  The goofy bunch in the picture below are letting off steam after a long two day Tai Chi for Memory Workshop!  That's the 'proprietor' in the middle holding his head!